Share
Close
Handstand 2 with Daniel Patrick
$55
•
Purchase required to enroll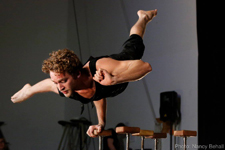 Teen/Adult Workshop: Ages 13+
Level: Intermediate (See requirements below)
Session: Guest Instructor Workshop
Cost: $55
Days: Saturday, April 14
Time: 5:30-7:30pm

Requirements: 45 sec hollow body, 45 sec plank, 5-10 push ups, ability to kick up safely into a handstand against the wall, holding handstand against the wall for 10 seconds - handstand experience preferred.
In this class, students will work mostly without using any props for assistance. While this class also has a strong focus on straight, straddle, and tuck shaped handstands, students will learn ways of safely entering and exiting these positions using both momentum and press strength. Students will also gain insight to an introduction of one arm handstands and how to safely prepare the body for this next high level training. Multiple exercises geared towards building strength, polishing shoulder extension, and discuss techniques for maintaining body balance will be provided, all designed to make your handstand training a more efficient process.
Hand Balancing, while being a highly technical discipline, has become an excellent training tool for conditioning the body, whether you want to achieve specific handstand skills, or simply improve strength and body awareness. Learning the fundamentals of handstand technique requires an understanding of body alignment, shoulder extension, and muscle activation for balance control; this class will teach you just that. We will begin with an active warm-up involving strength and flexibility to provide tools for building your muscle endurance specific to the handstand. A strong emphasis will be held on injury prevention, specifically targeting wrists, shoulders, neck, and proper entrances/exits. Students will learn exercises both on and off the wall to condition the proper handstand shape in a variety of positions including, but not limited to, straight, straddle, and tucked. Upon completion of the class, each individual will have the tools (ranging from beginner to advanced) needed to properly train hand balancing technique within their own practice. Class begins with a fifteen-minute cardio warm up, thirty minute stretch, an hour of handstand conditioning (with short breaks as needed), and a 15 minute cool-down.

About Guest Instructor Daniel Obey
Daniel Patrick, a silly natured gymnast turned circus artist, has been working as a teacher and performer for nearly ten years. A graduate of the New England Center for Circus Arts professional programs, he is skilled as a tumbler, hand balancer, and specializes in vertical aerial apparatuses. He has worked around the country with companies such as Aerial Horizon, Quixotic, and The Santa Fe Opera. In 2015 he won Best Artistic Performance at the Acrobatic Arts Festival (held in Denver, CO) and soon thereafter began coaching with Night Flight Aerial in Portland, OR. He most recently began working with AIDA Cruises, an international company, in August 2017 as a lead soloist in their various entertainment productions. Daniel Patrick prides himself on his captivating and versatile style of acrobatic art that has left countless audiences breathless.

See him on youtube: https://www.youtube.com/watch?v=3pG2oXTMbXc
Cancellation policy
Due to the special nature of this workshop, n
o refunds if the client cancels their enrollment at any time. Please plan accordingly. Full refund if studio cancels the workshop.