Share
Close
Ground Cube
$190
•
Purchase required to enroll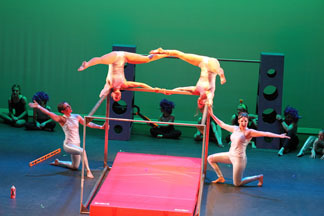 Teen/Adult Class
:
Ages 16+
Level:
200+ (
See Requirements Below)
Winter Session: 10 Weeks
(January 6- March 22)
Cost/Session: $190
(Cost based on $18/class plus non refundable registration deposit)
Payment plans are available. See our website for more information: http://www.showcircusstudio.com/PaymentPlans-id-145.html

Days Available: Tuesday 5-5:55PM (Starts January 7)Hours/Week: 1
Requirements: Aerial or ground level 201+ experience preferred.
Description:

It's not actually a cube, but it is fun to the third power! The Cube is a custom apparatus that has a lot of room for exploration. The Cube allows people to do Chinese pole, Dance pole, Trapeze, and select High bar tricks. There is also a great deal of experimentation that can be done on it, since it's a new apparatus. This class will introduce students to the Cube, teaching new skills and adapting any vocabulary that students currently have with any other apparatuses.
We will be doing work on the top bar of the Cube, which is 8 feet high, so students should be willing to be that high in the air. Students should come with a sense of exploration and a willingness to work hard. Students will focus on good form, strength, and control while learning basic sequences. Lots of conditioning and stretching also included! If you have any questions about enrollment or the class itself, please contact
henry@showcircusstudio.com
.
For people looking to learn something new and exciting, circus is a non-competitive, artistic, fun and safe discipline. All classes at SHOW focus on vocabulary retention, interpersonal life skills, and having fun in a safe environment. Circus is a great way to increase self-esteem, have fun, get in shape, improve focus and learn skills that will translate into every aspect of your life.
Circus for Fun, Circus for Life.
Cancellation policy
Any cancellations before the first day of class will be given a 100% refund minus the non-refundable registration deposit. Any registrations canceled after the first class are not eligible for a refund. Special exceptions may be made for medical situations. All classes canceled by the studio will be credited to your Pike 13 account based off of the single class rate. Adult students may substitute up to two missed classes during a session as free open studios or labs. Please contact the studio with any questions.