Share
Close
Trapeze 301
$310
•
Purchase required to enroll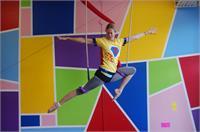 Teen/Adult Class
:
Ages 16+
Level: 301
(See Requirements Below/Contact Studio for Permission)
Spring Session: 11 Weeks
(March 30th through June 21st)
Cost/Session: $310
Payment plans are available through the office.
Days Available: Thursdays 7:30-8:55 pm (Starts April 2)Minutes/Week: 85

Requirements: Familiarity with trapeze vocabulary through level 201 and able to perform rock and roll with pike parallel to the ground. Must have been recommended for Trapeze 301 or have instructor permission.

Description:
This trapeze 301 class is for any student who fulfills the requirements listed above and/or has permission from the studio. Students will continue to progress at their own rate while learning new static tricks, dynamic moves and beginning/intermediate sequences. Each class will include a warm-up, trapeze training time and conditioning at the end. Great for anyone interested in continuing and learning more about the intermediate level curriculum.
For people looking to learn something new and exciting, circus is a non-competitive, artistic, fun and safe discipline. All classes at SHOW focus on vocabulary retention, interpersonal life skills, and having fun in a safe environment. Circus is a great way to increase self-esteem, have fun, get in shape, improve focus and learn skills that will translate into every aspect of your life.
Circus for Fun, Circus for Life.



Cancellation policy
Any cancellations before the first day of class will be given a 100% refund minus the non-refundable registration deposit. Any registrations canceled after the first class are not eligible for a refund. Special exceptions may be made for medical situations. All classes canceled by the studio will be credited to your Pike 13 account based off of the single class rate. Adult students may substitute up to two missed classes during a session as free Student Practice Times. Please contact the studio with any questions.