Share
Close
Trapeze 301
$150
•
Purchase required to enroll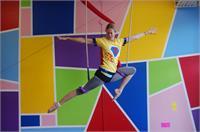 Teen/Adult Class
:
Ages 16+
Level: 301
(See Requirements Below/ Contact Studio for Permission)
Spring Session: 12 Weeks
(March 15th - June 13th; there will not be classes from April 19th-25th)
Enrollment Cost: $150
Total Cost: $450, with subsequent payments due on April 15th and May 15th. Students are not permitted to enroll for a partial session, and are committing to all three installments and the full 12 week session upon enrollment.
Days Available: Monday 6:30-7:30 pm
Requirements: Students must have completed at least 1 previous Aerial Skills 101 class AND been recommended for Trapeze 201 or have previous experience. Please contact the studio with any questions before registering.
Update: Due to the impacts social distancing has on spotting and the length of time we've all been out of the air, classes this session will look a little different. Classes will be focused on getting back on an apparatus and conditioning.

Description:
This trapeze 301 class is for any student who fulfills the requirements listed above and/or has permission from the studio. Students will continue to progress at their own rate while learning new static tricks, dynamic moves and beginning/intermediate sequences. Each class will include a warm-up, trapeze training time and conditioning at the end. Great for anyone interested in continuing and learning more about the intermediate level curriculum.
For people looking to learn something new and exciting, circus is a non-competitive, artistic, fun and safe discipline. All classes at SHOW focus on vocabulary retention, interpersonal life skills, and having fun in a safe environment. Circus is a great way to increase self-esteem, have fun, get in shape, improve focus and learn skills that will translate into every aspect of your life.
Circus for Fun, Circus for Life.

For our 12 week session, a third of the cost of the class is due upon enrollment with subsequent payments due on April 15th and May 15th. Students will be emailed a reminder during the prior week, and will be charged via Pike13. You will receive a receipt for each installment to the email address associated with your Pike13 account. If there is anything we can do to help with registration, or any questions we can answer feel free to contact our office at info@showcircusstudio.com.





Cancellation policy
Any cancellations before the first day of class will be given a 100% refund minus the non-refundable registration deposit. Any registrations canceled after the first class are not eligible for a refund. Special exceptions may be made for medical situations. All classes canceled by the studio will be credited to your Pike 13 account based off of the single class rate. Please contact the studio with any questions.