Share
Close
Partner Acrobatics 201
$310
•
Purchase required to enroll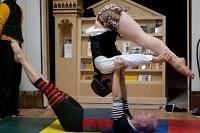 Teen/Adult Class
:
Ages 16+
Level: 201
(Returning and Experienced Students Welcome)
Spring Session: 11 Weeks
(March 30th through June 21st)
Cost/Session: $310
Payment plans are available through the office.
Days Available: Thursday 7:30-8:55 pm (Starts April 2)Minutes/Week: 85
Requirements: Must have completed at least one session of 101 or higher level Partner Acrobatics.
Description:
This class is for students who have already done at least a session of 101 or higher level partner acrobatics class. We will work on more advanced versions of skills and drills that were introduced in 101. Areas of focus will include acrobalance, as well as introduction to pitching, swinging adagio, and banquine. If there is student interest, we can work on putting together an act to present at one of our summer shows.
For people looking to learn something new and exciting, circus is a non-competitive, artistic, fun and safe discipline. All classes at SHOW focus on vocabulary retention, interpersonal life skills, and having fun in a safe environment. Circus is a great way to increase self-esteem, have fun, get in shape, improve focus and learn skills that will translate into every aspect of your life.
Circus for Fun, Circus for Life.
Cancellation policy
Any cancellations before the first day of class will be given a 100% refund minus the non-refundable registration deposit. Any registrations canceled after the first class are not eligible for a refund. Special exceptions may be made for medical situations. All classes canceled by the studio will be credited to your Pike 13 account based off of the single class rate. Adult students may substitute up to two missed classes during a session as free Student Practice Times. Please contact the studio with any questions.