Share
Close
Student Point Rentals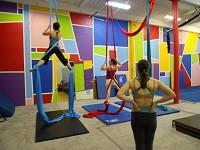 Teen/Adult Class

:

Ages 16+ Level: 300+ Drop-In: $25, 60 minutesSpring Session Point Rental Times:


Tuesdays 2:30-3:30pm

Thursdays 3:40-4:30pm


Due to rigging and space constraints, enrollment must be processed by the studio.

Once your Point Rental has been approved, you will be enrolled for the date/time of your choice, your card on file will be charged, and you will receive an email receipt as confirmation of your point rental. You must register for your Point Rental at least 24 hours in advance. You may cancel and receive a full refund more than 24 hours in advance, but as our staffing is based on enrollment, if you cancel within 24 hours of your Point Rental, you will not receive a refund (except in case of emergency).





One space per point rental time may be reserved by a germ-bonded pair that both meet the student requirements for open studio. Students must be able to safely share the same apparatus. The cost for a Student Shared Point Rental is $30 ($15 per student).





If you have any questions about Point Rentals, please email Margaret at margaret@showcircusstudio.com.

Here is the link to the google form to request space:
https://docs.google.com/forms/d/e/1FAIpQLScmwGBsr62DvWarZhcoNT6Eg_D8dymrQAgXZ8iNswaDf_kfvA/viewform?...